Who else starts their AM with a beloved hot beverage?
Mine would be coffee. Which I've been immensely enjoying lately in a downstairs sun-filled room with floor to ceiling windows!
Except for the fact that my supreme coffee experience has been somewhat dulled by the ratty old TV tray I was using.
So let's fix that… grabbing a pretty nifty stencil kit, it's hard to believe that this old TV tray turned into an absolute vintage-classic beauty!
The magic of paint, I tell ya!
Here's the incredible transformation that was SO easy to do…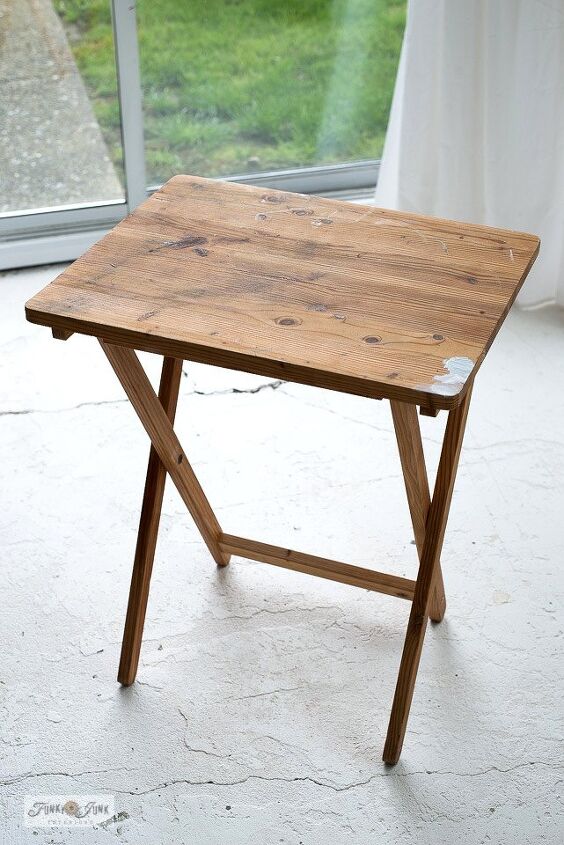 I LOVE to collect solid wood TV trays, because they are so easy to work on and super handy to have around!
But this one needed a makeover.
The top was first sanded back down to clean, bare wood.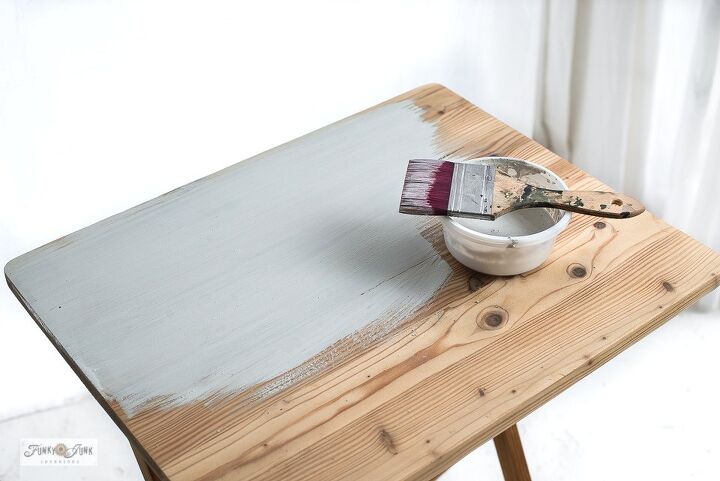 Next up, a 'grout' tone was painted on the top, called Homestead House's Milk Paint in Grey Silk.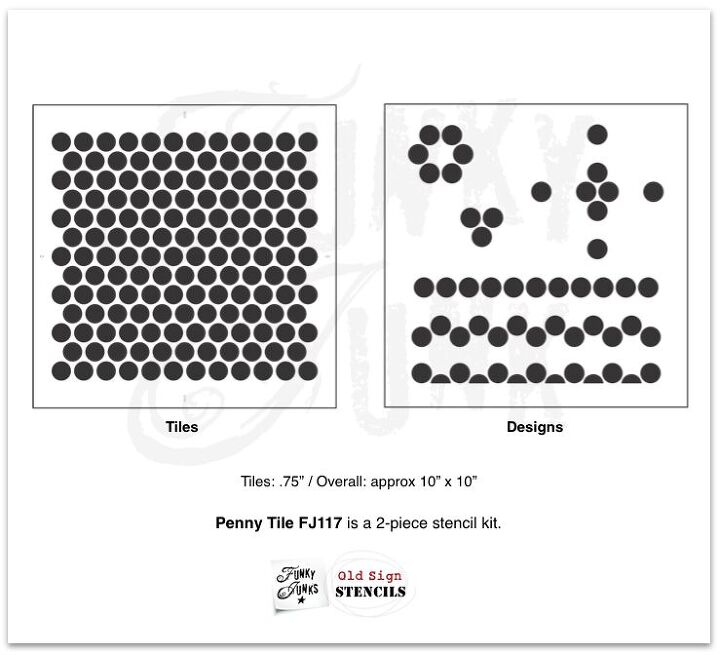 Next up was to add a design!
Penny Tile is a 2-piece stencil kit that allows you to design your own stenciled penny tiles on any surface desired!
Wait until you see how cool this turned out!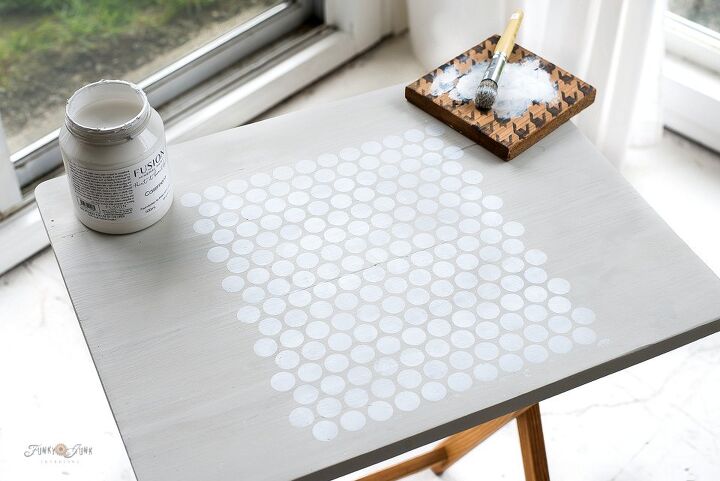 The Tiles stencil was positioned into the center of the TV tray, then stenciled in Fusion Mineral Paint's Casement. (white)
How to stencil:
Dip stencil brush into paint.
Remove most on a rag until brush feels dry.
Tap or swirl brush through the stencil for the desired effect.
Continue pattern by lifting stencil, overlapping like-minded pattern along edges, then continue to stencil.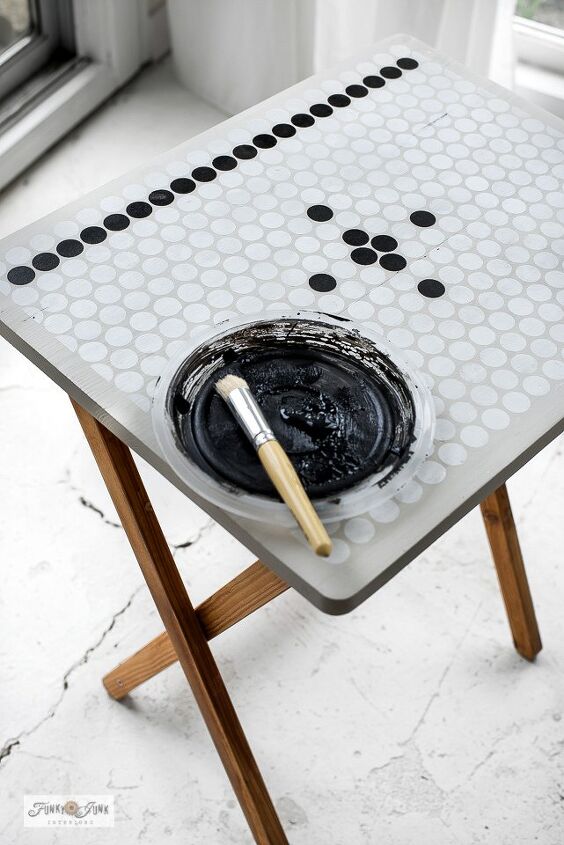 Now it's time to design your tiles!
Using the Designs stencil, place the desired designs on top of the stenciled tiles, align the circles, then stencil with Fusion Mineral Paint's Coal Black.
Instant tile designs! You can create your own designs and borders! Now that's an easy way to tile…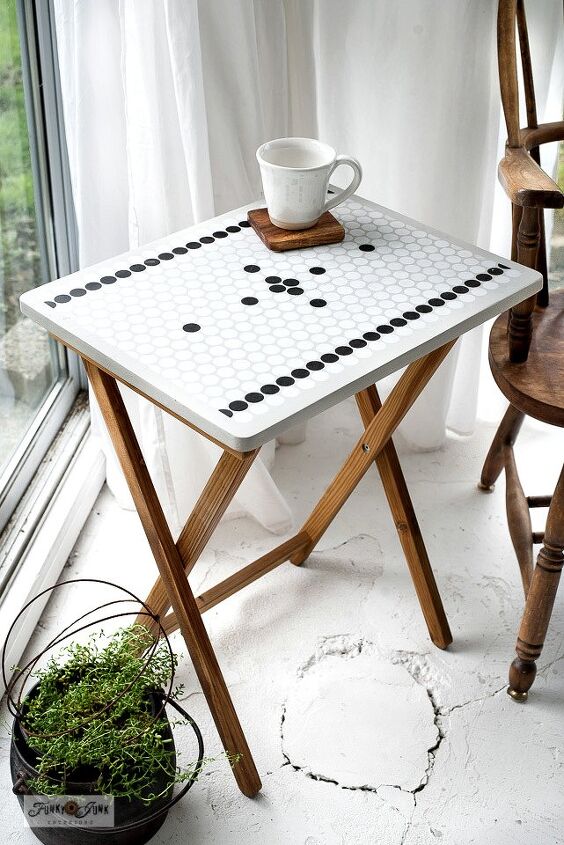 And the end result is one very high-end looking classic TV tray that is ready to serve up coffee in the way a beloved ritual truly deserves!
Although not needed, I also applied a stain and finishing oil topcoat for added durability which you can read about in the original blog link below.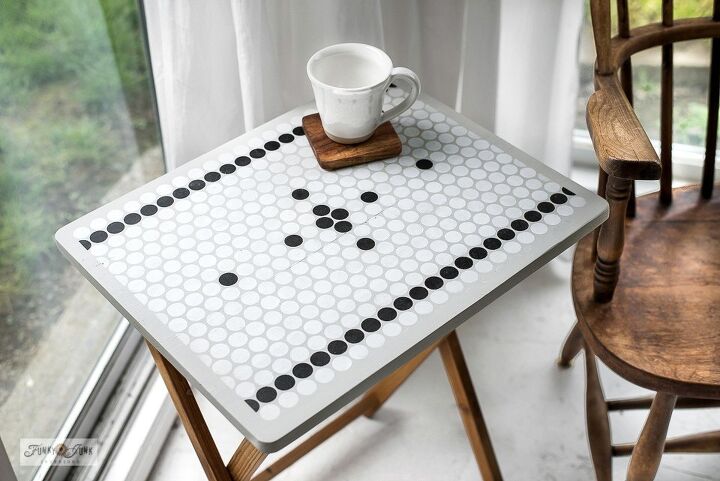 Isn't it pretty? And the easiest tile job in the land I might add.
How would you design your penny tile TV tray?
Enjoyed the project?