This post is sponsored by Retique It. All opinions are my own.
My oh my I never thought I would be using a product like this! From chalk paint to milk paint to white wash, I feel like I've used it all. Then I was introduced to Retique It. This stuff is so cool! Who would have thought you could blend actual wood into a paint product. Let me show you how I used it with a folding table makeover.
Every day there are new paint products on the market. Friends, this one is different.
When the folks at Retique It reached out and wanted me to create a project using their liquid wood, I figured I would makeover an old dresser. But the more I thought about it, the more I decided I wanted to transform a non wood surface into a real wood surface.
Hence the folding table makeover…
Where do we start?
Let me show you the "before" picture of my folding table.
Video for the Folding Table Makeover with Retique It Liquid Wood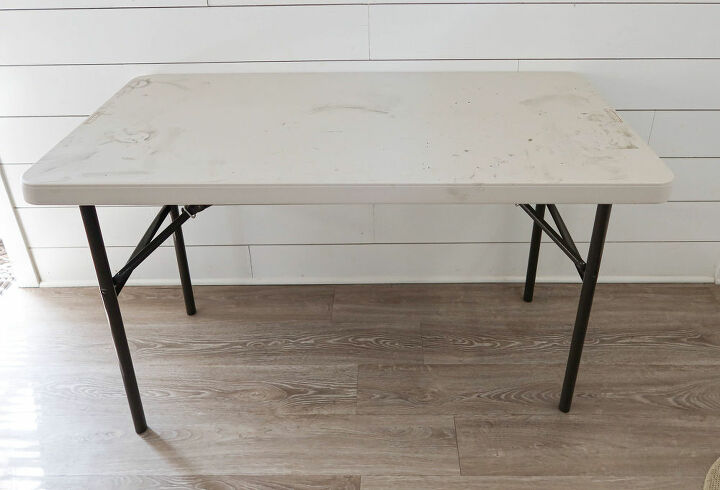 The BEFORE picture.
Can you believe that I'm going to transform an old ugly PLASTIC folding table to a beautiful wood table? Just wait…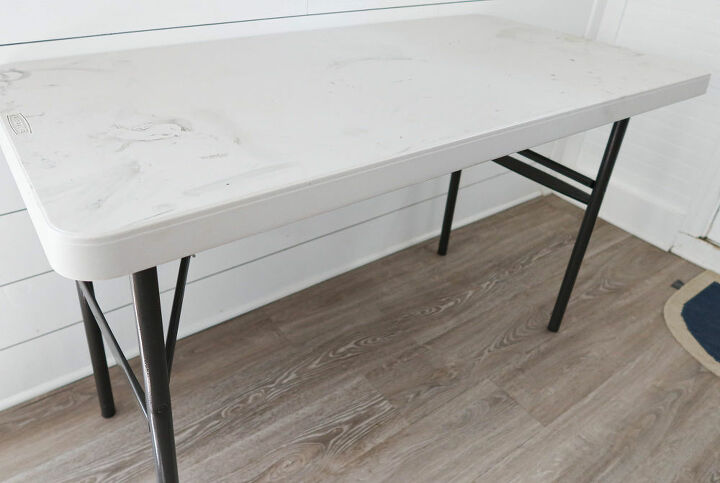 I've used this table for so many different projects; mainly as a craft table (hence the stains on the table top). I can't wait to give it a new look!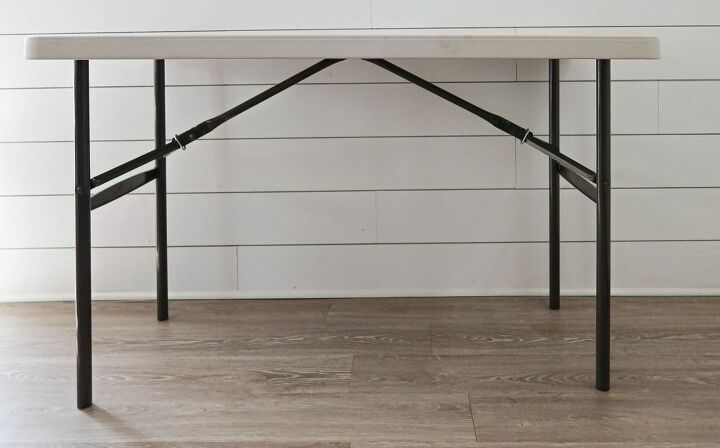 Folding tables can be so functional and I'm about to make it functional and fabulous.
Before I get to the liquid wood tutorial, let me show you what I did to the base.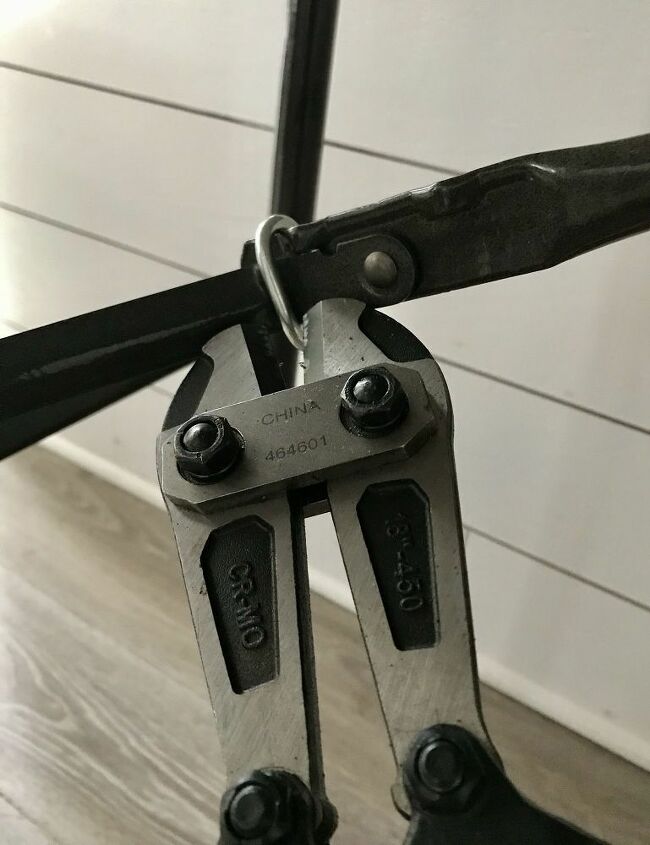 I removed the chain link on both sides of the legs.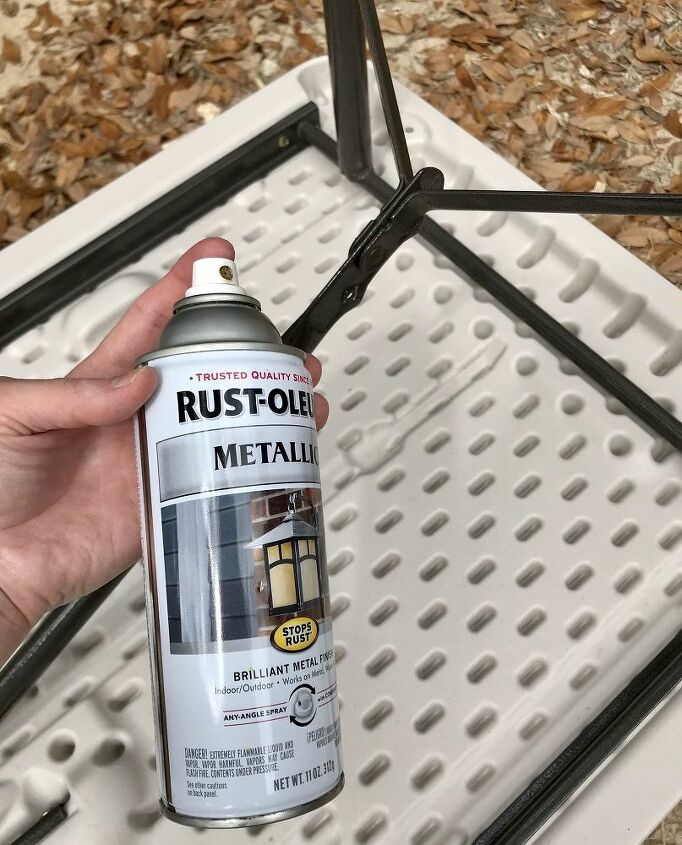 Then I spray painted the legs and base with my favorite gold spray paint!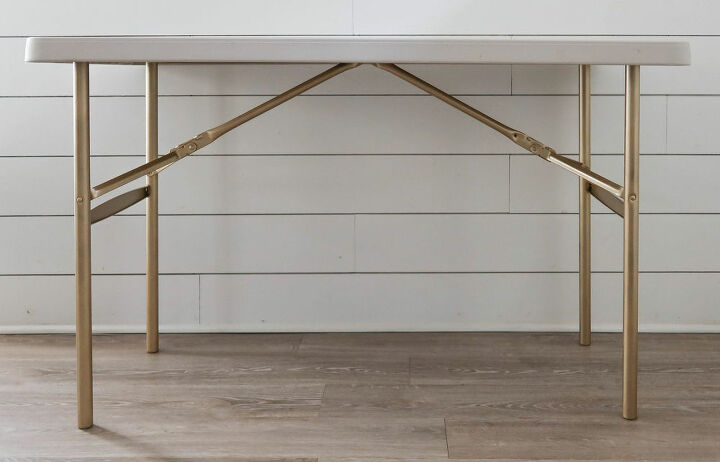 It's looking better now! A little gold spray paint goes a long way. Everything looks better in gold right?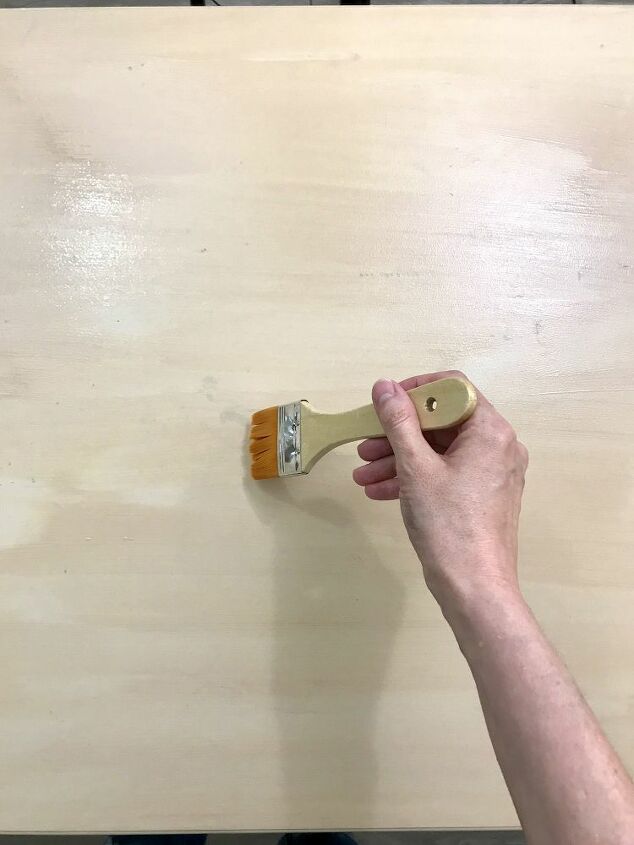 Apply the first coat of Retique It Liquid Wood in long even brush strokesAfter you've cleaned the surface, open the Retique It Liquid Wood product and stir it really well. Make sure you use a synthetic brush to apply the Liquid Wood. Don't use a bristle brush (the brushes you use with chalk paint).
Apply the Liquid Wood product in long even brush strokes. Don't worry about brush strokes.
Let it sit for two hours to dry.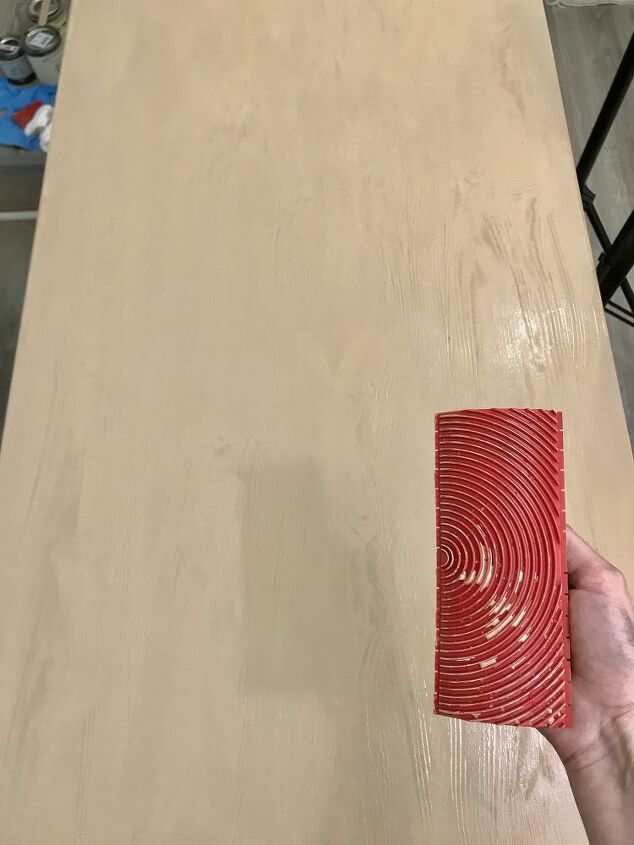 Apply the Second coat of Liquid Wood and while it's still wet use the graining toolMaking sure the first coat is dry, apply a second coat of Liquid Wood with the same technique. While the second coat is still wet, grab the graining tool and pull it in long even strokes rolling it while you pull. This creates the "wood grain look."
Note; don't press too hard or you will pull up the Liquid Wood. If you mess up, just roll the graining tool over the same area again. If you still don't like it, apply another layer of Liquid Wood and then use the graining tool again.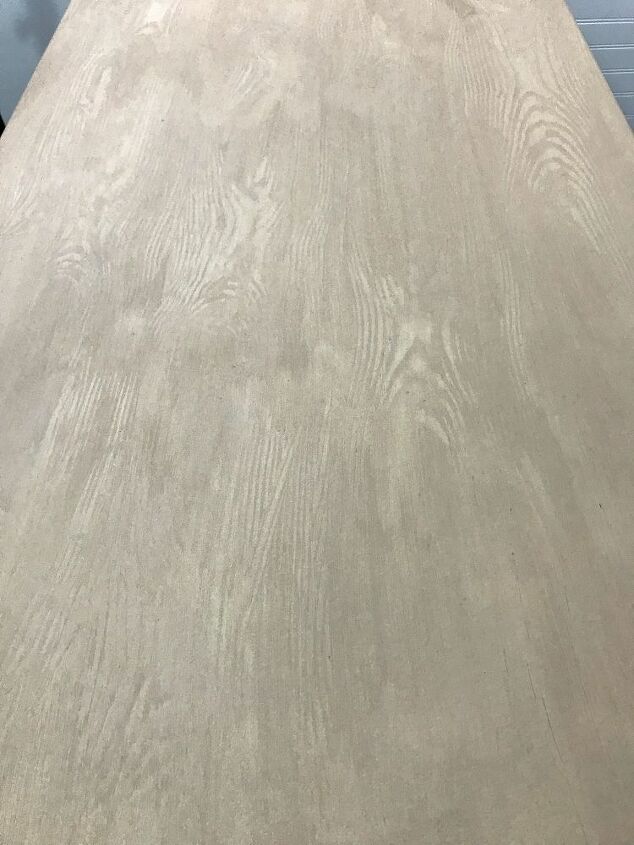 You can see the wood grain variations a lot better once it's dry. I'm loving the look so far! Can you believe this is plastic?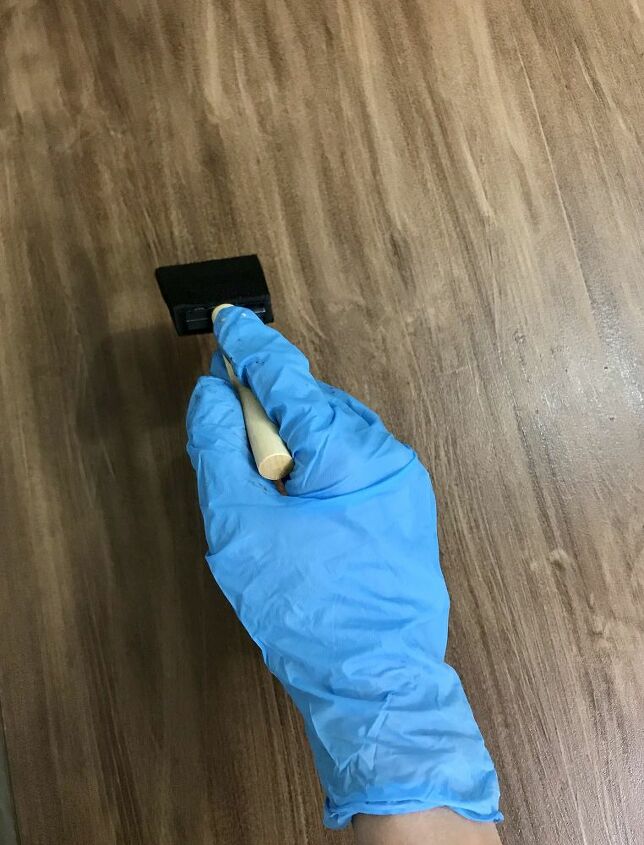 Apply the stainPut gloves on, grab a foam brush or regular brush and start to apply the stain in the direction of the wood grain.
I'm using the Retique It Java Stain.
I LOVE the Retique It products because they have virtually no VOC's, which means almost NO PAINT ODOR! This is huge because I'm guilty of painting inside our house more than I want to admit.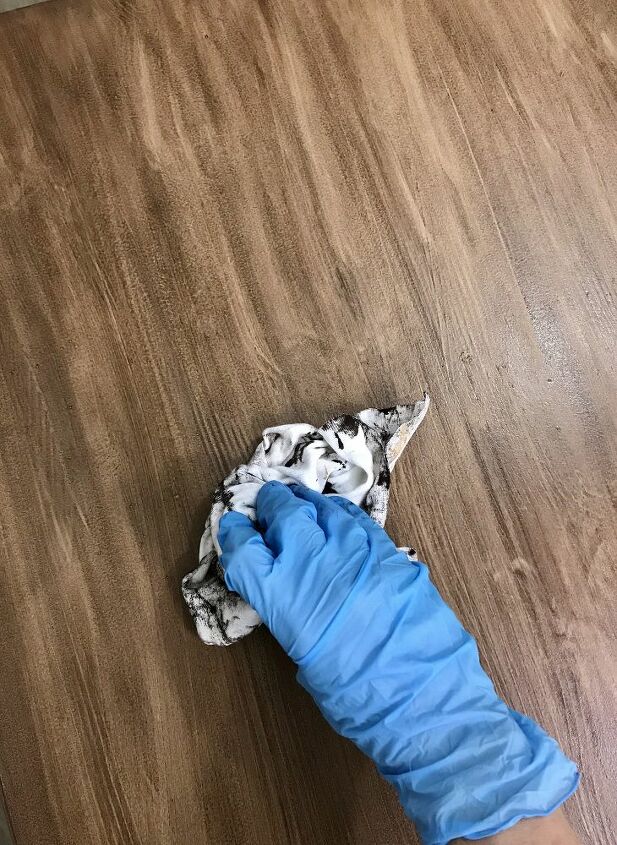 Use a lint free cloth and wipe away the excess stainTake a lint free cloth and wipe away excess stain in the direction of the wood grain. Repeat this process until you get the desired finish. The more stain you apply, the darker the finish will be.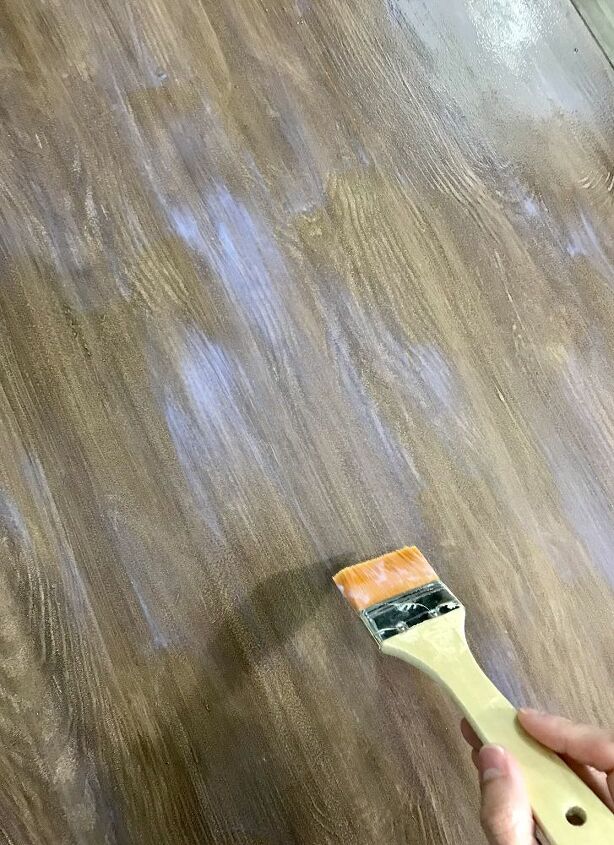 Add a layer (or two) of sealerI'm using the Retique It Polyurethane. This also has little to no odor!
I applied two layers of sealer for a durable finish.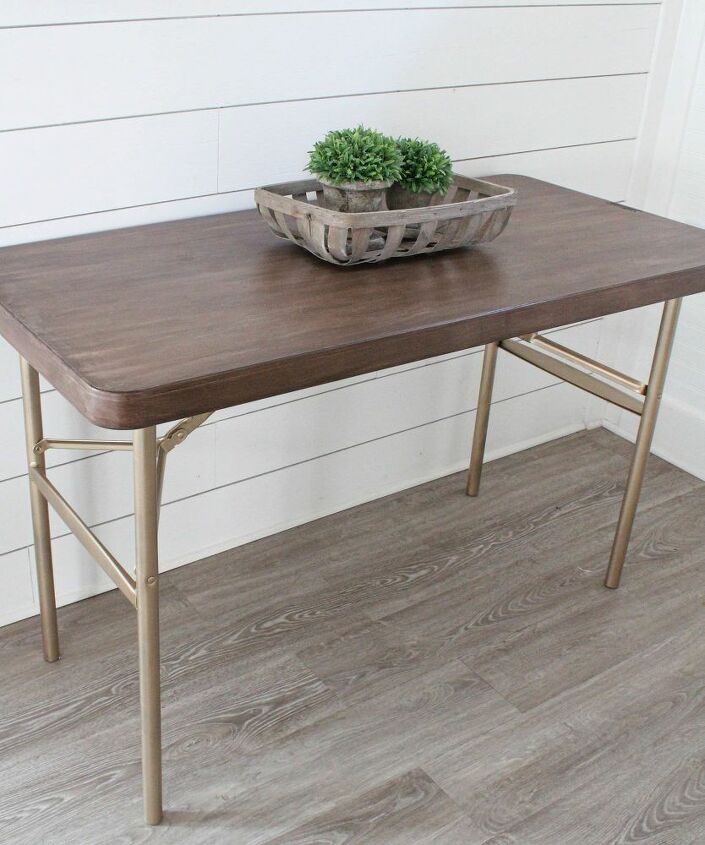 The finished table!I love how this product has transformed a boring plastic table top into a beautiful wood top!
Can you see the wood grain! I love it.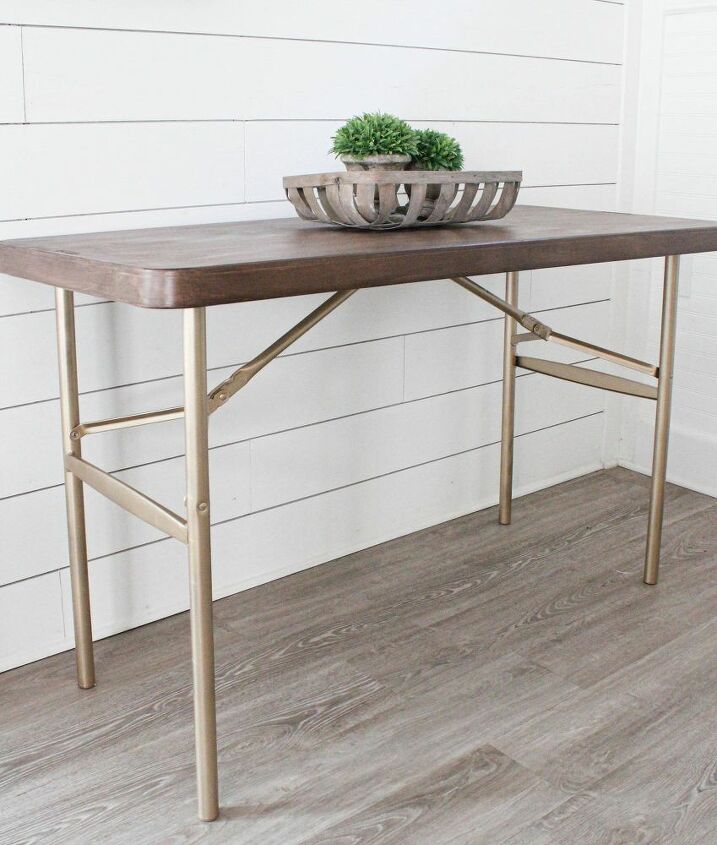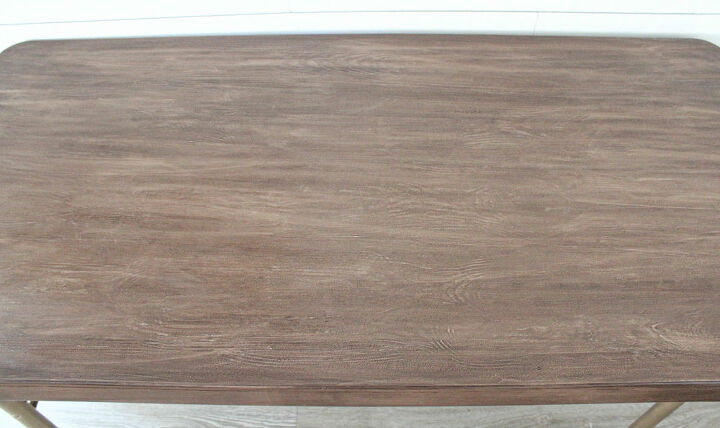 Isn't the color beautiful?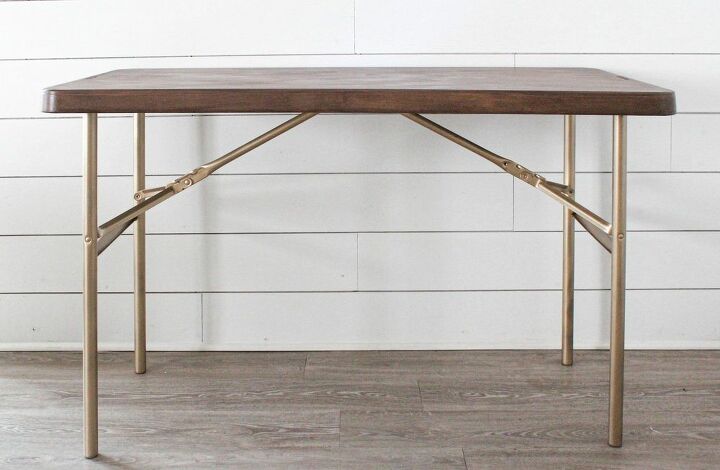 What can YOU transform in your home with this amazing product?
This post is sponsored by Retique It. All opinions are my own.
Enjoyed the project?
Now for the fun part…